Preserve your pool for lasting summer memories
With safety first and peace of mind second, Triple A Pool Service offers you the best pool safety company on the market.  Anchor Industries Inc was founded in 1892 and even goes as far as providing our military with products.  This ensures that you are getting a high quality pool cover that looks great.   Whether you are looking for a 5 star solid or a mesh we have you covered.  All covers come with a cover bag, removal tool, springs, spring covers, deck anchors, Flanges (these cover any minor chipping caused by drilling), and a cover pump.  Both covers have no visible cross strapping that give them their unique clean look.
Your pool doesn't have to become an eyesore in the winter!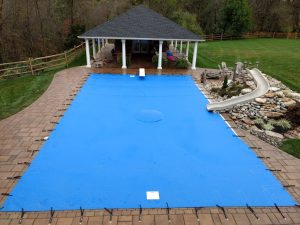 With the help of our high quality covers, your pool will look great for the next season – GUARANTEED!
All Anchor covers come with:
Springs and spring covers
Competitive pricing on safety covers
Whether you're in the market for a 5 star solid cover or you're looking for a high quality Defender Mesh cover, we can help make your pool cleaner for the spring.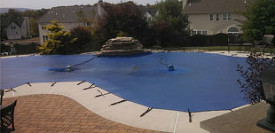 We never sacrifice quality products and installation for price. Get the best service and products in the area at competitive prices.
The 5 star solid cover is a great way to extend the life of your tile and coping by not letting water to access it over
the winter and freezing.  Another advantage is the fastening hardware is evenly spaced around the perimeter of the cover, this enables less drilling into your deck and no straps that will cross each other.
This cover will keep your pool looking great for the next season to come.  Guaranteed!  This cover can be ordered in the following colors.
The defender mesh cover has a tighter, thicker woven material then most which allows for less dirt and sunlight to pass through it.  This gives you a much cleaner pool in spring. The mesh cover can be ordered in the following colors.
          Solid Colors                            Anchor Vinyl                                  Mesh Colors